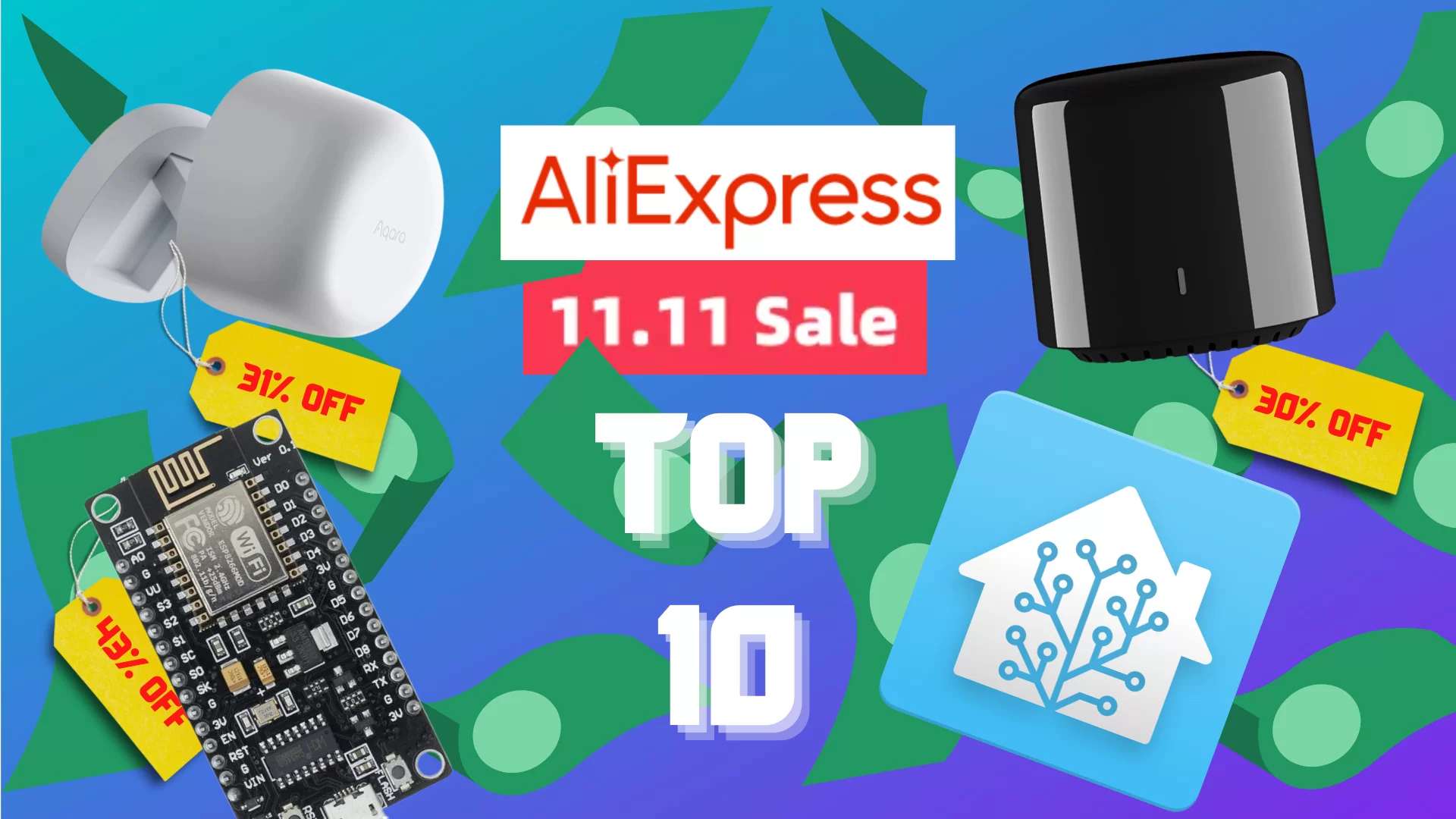 Today, AliExpress is running their single's day (November 11th) and that gives us, smart home enthousiasts, a lot of great deals to add new devices and projects to our houses. So I digged into AliExpress to find some geat opportuinities that I listed bellow. Enjoy !
Every devices on that page are eligible to the AliExpress's promo of 5$ Off for every 30$ spent !
All prices are subject to change without notice and are not guaranteed, please confirm directly on AliExpress's site.
Every links contained on this page might be Affiliate links, which mean that I could earn a small amount of anything bought, at no extra cost to you.
That'll help me to create new projects and content, Thanks !
#10 Aqara Zigbee Presence Sensor FP1
If Zigbee is a part of your smart home, you probable heard of that sensor ! 

Aqara's ZP1 is a radar presence sensor that can detects you even if you're not moving.
It's a bit slow to trigger lights, but pretty accurate to know if you left a room.

On my side, I use it in my living room, so it turns off the TV and lights when no one is there.
#9 Aqara Water Leak Sensor
This one can save you a lot of trouble ! 
Also using Zigbee, this device can be installed anywhere in your home to watch for any water leak.

I do have some of them in different locations, such as behind toilets, in the laundry room and near the water valve. 
I also saw few people putting them in there shower to know whenever it was in use, which is kind of clever 🙂
If you're into DIY and electronic, this one is for you !
The NodeMCU is a great board which let you build your own IOT devices.
There is different ways to use it with Home Assistant, but the most popular is definetly ESPHome .
This device let you use Home Assistant to control any Infrered devices, like your TV, a fan, your cable box of even your mini-split ! 

You can get more information right there 
 Broadlink Integration
I never rely on smart home for life related stuff, but I do use them to extend security "MVP".

That means that, in top of my hardwired and approved smoke detectors, I have these detectors in different rooms and areas of my house. This will let me know if it's triggered and get me more specific locations.
#1 Xiaomi BLE Temperature & Humidity Sensor
Monitoring the temperature and humidity with Home Assistant never was that cheap ! 
You can easily install BTHome on these sensors, which will make them automatically discovered by Home Assistant (if your instance has Bluetooth).

Bonus : BTHome is also supported by ESPHome's Bluetooth proxy.